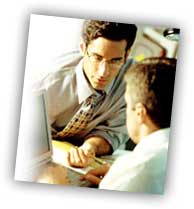 Consulting
We have extensive experience in the areas of Telecommunications, Networking and Satellite Communications. PSQ Technologies' personnel carry several decades of experience in Satellite and Wireless Communications and have been involved in development of many novel products including some patented inventions involving Digital Demultiplexers for regenerative satellite payloads.
Our strategy is to customize our solutions according to customers' requirement. Our consulting activities include:
performing link budget calculation, developing system and equipment specifications, assisting customers in procuring the required equipment.

PSQ specializes in the baseband electronics equipment such as high rate modems, error correcting encoder/decoders, image and speech coding, data compression and encryption circuitry. Our digital designers can provide the customers with the design, board layout, assembly, test and packaging of various telecommunications equipment. PSQ Technologies Inc. can guide/assist its customers with the procurement and component kitting for North American or offshore mass production of the equipment.
· Project Analysis

· Turnkey solutions and project Management Skills

· Consultancy and Training: Business model preparation, Technical feasibility plan, staff assessment and training